section-75d72f0
Systems Engineering provides an environment to address the needs, costs, risks and overall utility of a design, from concept to end-of-life. AAC's Systems Engineers work closely with our clients to transform users' needs into useful designs that are operationally effective, affordable and sustainable over a given life span.
---
Slider
Our support includes:
The entire design process and reviews (including documentation)
Initial test and evaluation
Manufacturing and production
Fielding and training
Mid-life upgrades (tech insertion and tech refresh)
Determining end of life
Different Clients, Different Lifecycle Models
Our SEs posses the knowledge and experience to transcend the different views and vernacular and address the fundamental building blocks which collectively form the SE lifecycle.

---
Slider
Program Support
AAC has extensive capabilities in the program and acquisition support areas from the high level JCIDS process to program level standard systems and specialty engineering support for programs. We remain current on new, emerging, and modified elements of the JCIDS, PPB&E, and Defense Acquisition Systems.
AAC helps our clients drive their programs through the complex, integrated DoD Decision Support System.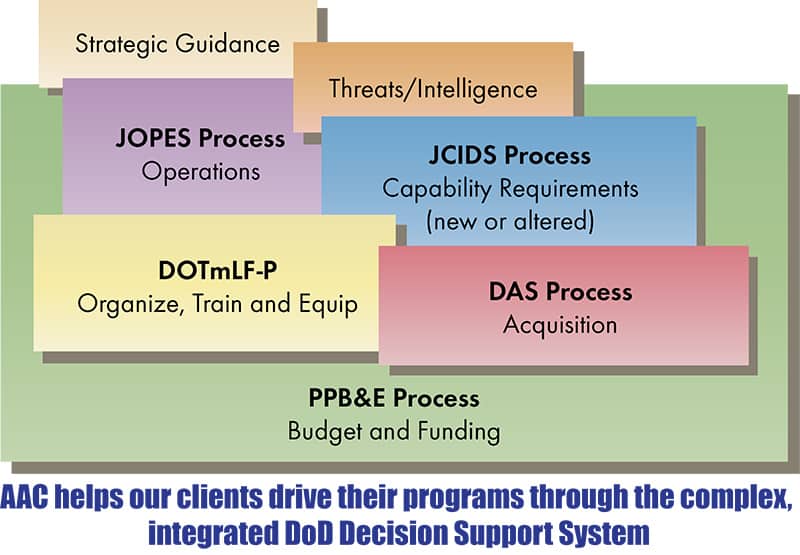 ---
Slider
Specialty Engineering
AAC has developed tools and processes to support the specialty engineering disciplines including Reliability, Availability, Maintainability and Cost (RAM-C).
AAC helps our clients ensure that JCIDS sustainment parameters are validated and feasible.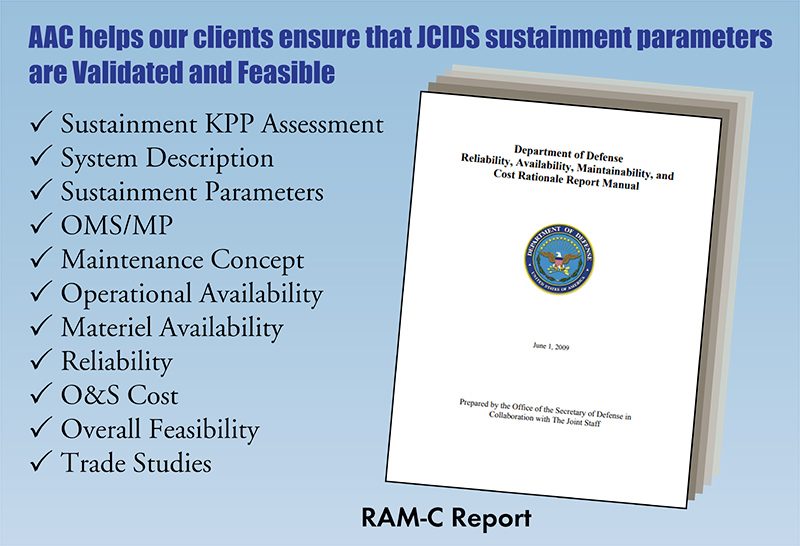 ---
Slider
Certification Training
AAC leverages two of its core capabilities, training and systems engineering, to offer a professional certificate program for systems and support engineers. Combining academic knowledge and our own real-world program experience, we teach the essential knowledge for integrating large, complex, and mission-critical systems. The certificate program is offered with a combination of mandatory and optional modules to enable customization to the student's career needs.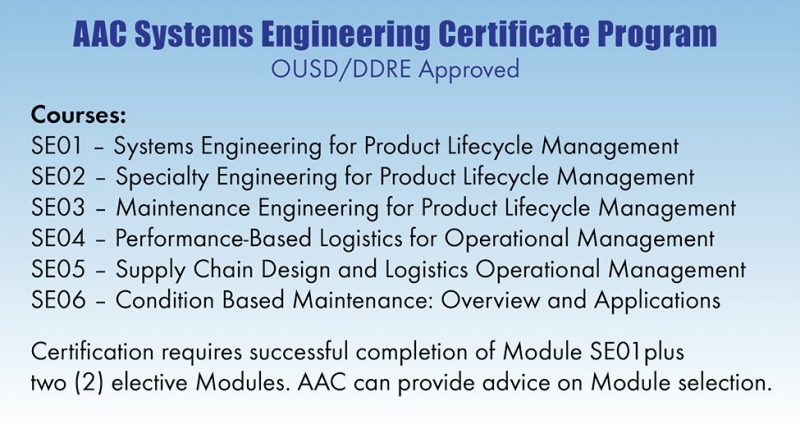 ---
Slider
AAC has developed and uses an Enterprise Re-Architecting (ERA) process that manages the gamut of architectural issues across systems designs. We focus on the three main elements of any enterprise:
Business Model – Implements the business strategy and fulfills the mission, delivering measurable value.
Organizational Structure – Defines the alignment of human roles and responsibilities and the administrative systems that facilitate the business model.
Technical Approach – Ensures all technical elements (work processes, systems, tools, automation, intellectual property, etc.) satisfy customer and stakeholder lifecycle needs for cost, quality, schedule, and functionality.
Today's business environment will almost assuredly be different tomorrow. AAC helps you design your enterprise architecture so it is agile and can "bend without breaking." It will adapt to new and disruptive technologies, the competitive landscape, and changing government regulations.
When the NSWC, Indian Head Division (IHDIV) needed architectural assistance for the Joint Air-to-Ground Missile acquisition, AAC engineers developed prognostic health management (PHM) architecture requirements for the statement of work (SOW) and created DoD Architecture Framework (DoDAF) architectural drawings.
---